Firewords is a quarterly literary magazine. It combines powerful short stories with artwork which leaves an impression.
I was honoured to be published in Edition 8 with 'The Man with No Shadow,' which won an Artists & Writers short story competition.
A witty look at the characters who inhabit the town of Bay Key in Florida. A series of short stories which intertwine those individuals and their lives.
'The road runs for miles and miles through the scrub pine forest of northwest Florida and finally comes to an end in the remote fishing village of Bay Key in the in the Gulf of Mexico. It is the only road in and is the only way out. Such places attract vagabonds, eccentrics and plain old crazies and Bay Key tops the list. There is Rattlesnake Billy, Zeke the town philosopher on a Harley. Todd and Terri who own the old Bay Hotel and promote it by advertising to extra-terrestrials and ghosts, then there is Ben the birdman and his blue-footed boobies….just some of the characters you will meet in SOUTHERN EXPOSURE Tales of Bay Key.'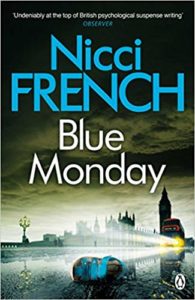 Our latest Book Club read was enjoyed by everybody. This is the first of the Frieda Klein series and I'll be reading more…

Monday: five-year-old Matthew Faraday is abducted. His face is splashed across newspaper front pages. His parents and the police are desperate. Can anyone help find their little boy before it is too late?
Psychotherapist Frieda Klein just might know something.
One of her patients describes dreams of seizing a boy who is the spitting image of Matthew. Convinced at first the police will dismiss her fears out of hand, Frieda reluctantly finds herself drawn into the heart of the case. A previous abduction, from twenty years ago, suggests a new lead – one that only Frieda, an expert on the minds of disturbed individuals, can uncover.
Struggling to make sense of this terrifying investigation, Frieda will face her darkest fears in the hunt for a clever and brutal killer . . .